Toyota Tundra Service Manual: Manual Shifting Test
MANUAL SHIFTING TEST
1. MANUAL SHIFTING TEST
HINT:
Through this test, it can be determined whether the trouble occurs in an electrical circuit or if it is a mechanical problem in the transmission.
If any abnormalities are found in the following test, the problem is in the transmission itself.
(a) Disconnect the connector of the transmission wire.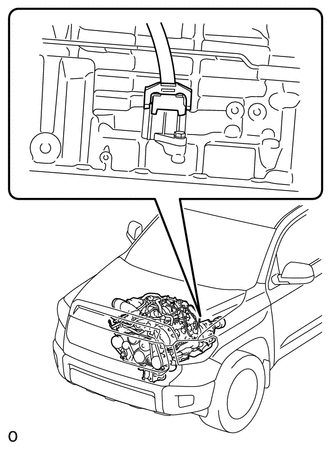 HINT:
It is possible to deactivate the electrical shift control by disconnecting the transmission wire. The gear positions can then be changed mechanically with the shift lever.
(b) Drive the vehicle with the transmission wire disconnected. Move the shift lever to each position to check whether the gear position changes as shown in the table below.
| Shift Lever Position | Gear Position |
| --- | --- |
| P | P |
| R | R |
| D | 4th |
(c) Connect the connector of the transmission wire.
(d) Clear the DTCs (See page

).
See More:
Toyota Tundra Service Manual > Hood: On-vehicle Inspection
ON-VEHICLE INSPECTION PROCEDURE 1. INSPECT HOOD SUB-ASSEMBLY (a) Check that the clearance measurements of areas A to D are within the standard range. Standard Clearance: Area Specified Condition A 3.7 to 6.7 mm (0.146 to 0.264 in.) B -1.5 to 1.5 mm (-0.0591 to 0.0591 in.) C (Reference) 25.25 to 28.2 ...
Toyota Tundra Owners Manual
Toyota Tundra Service Manual
© 2023 Copyright www.ttundra.com
0.0095