Antenna
Removing the antenna
1. Place the included wrench around the antenna.
When not in use, the wrench is stored in glove box.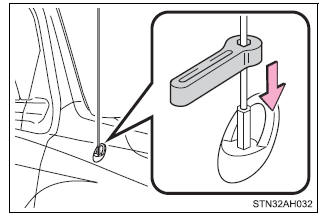 2. Loosen the antenna with the wrench and remove it.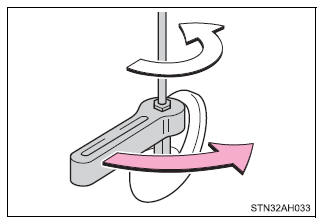 Installing the antenna
1. Tighten the antenna by one hand until it will not turn any more.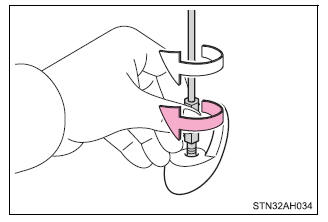 2. Using the wrench, tighten the antenna an additional 1/8th turn (20 to 45 degrees) to secure it in place.
After tightening the antenna, remove the wrench.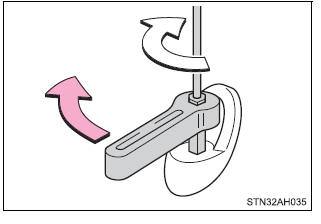 ■About the wrench After using the included wrench, store it in the glove box for safekeeping.
NOTICE
■To avoid damaging the antenna Remove the antenna in the following situations.
When using an automatic carwash.
When the antenna will touch the ceiling of a garage, etc.
When covering the vehicle with a car cover.
■Removing the antenna
For normal driving, make sure the antenna is installed.
When removing the antenna to use an automatic carwash, etc., be careful not to lose the antenna. Also, make sure to reinstall the antenna before driving the vehicle.
■Using the wrench
When installing or removing the antenna, use the included wrench.
Be careful not to scratch or damage the vehicle body with the wrench.
Do not over-tighten the antenna.

Over-tightening may damage the antenna.

Do not use any tools other than the included wrench to install or remove the antenna.

Otherwise damage may result on the antenna's finish.