Replace the battery with a new one if it is depleted.
You will need the following items:
Flathead screwdriver
Small flathead screwdriver
Lithium battery CR2016
Replacing the battery
1. Remove the cover.
To prevent damage to the key, cover the tip of the screwdriver with a rag.
To prevent the buttons from being disassembled, face the button surface downward.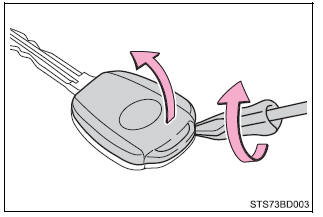 2. Remove the module.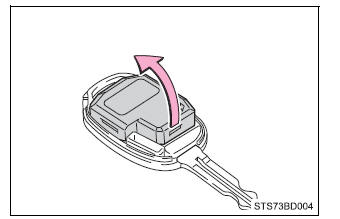 3. Open the case cover using a coin protected with tape, etc., and remove the depleted battery.
Insert a new battery with the "+" terminal facing up.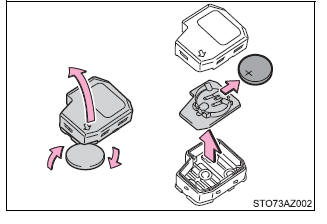 ■Use a CR2016 lithium battery
Batteries can be purchased at your Toyota dealer, local electrical appliance shops or camera stores.
Replace only with the same or equivalent type recommended by the manufacturer.
Dispose of used batteries according to local laws.
■If the key battery is depleted The following symptoms may occur:
The wireless remote control will not function properly.
The operational range will be reduced.
WARNING
■Removed battery and other parts Keep away from children. These parts are small and if swallowed by a child, they can cause choking. Failure to do so could result in death or serious injury.
■Certification for the lithium battery CAUTION: RISK OF EXPLOSION IF BATTERY IS REPLACED BY AN INCORRECT TYPE. DISPOSE OF USED BATTERIES ACCORDING TO THE INSTRUCTIONS
NOTICE
■For normal operation after replacing the battery Observe the following precautions to prevent accidents: