REMOVAL
CAUTION / NOTICE / HINT
HINT:
Use the same procedures for the RH side and LH side.
The procedures listed below are for the LH side.
PROCEDURE
1. SUPPORT BODY WITH SAFETY STANDS
(a) Jack up and support the body on safety stands.
(b) Lower the axle housing until the leaf spring tension is free, and keep it at this position.
2. REMOVE SPARE TIRE
3. REMOVE REAR WHEEL
4. DISCONNECT NO. 3 PARKING BRAKE CABLE ASSEMBLY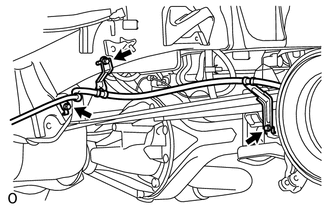 (a) Remove the 3 bolts and disconnect the cable from the vehicle.
5. DISCONNECT REAR SHOCK ABSORBER ASSEMBLY LH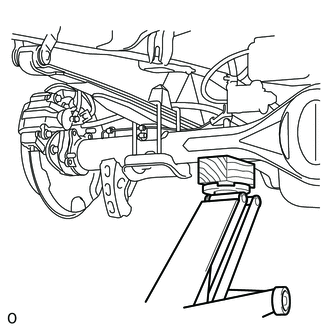 (a) Support the rear axle housing with a jack using a wooden block to avoid damage.
| | |
| --- | --- |
| (b) Remove the bolt and nut, and disconnect the shock absorber lower side from the axle housing. | |
6. REMOVE REAR SPRING U BOLT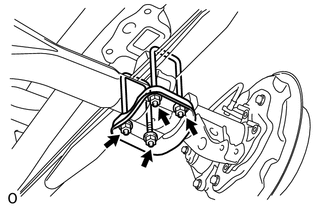 (a) Remove the 4 nuts, 4 washers and spring seat.
(b) Remove the 2 U bolts.
7. REMOVE REAR SPRING BUMPER SUB-ASSEMBLY
(a) Remove the spring bumper.
8. REMOVE REAR SPRING ASSEMBLY LH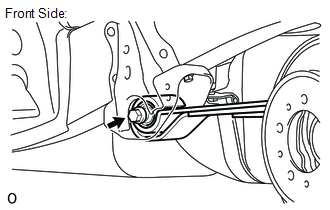 (a) Remove the nut, washer and bolt from the front side.
| | |
| --- | --- |
| (b) Remove the 2 nuts, 2 washers, shackle outer plate, No. 2 spring shackle plate and leaf spring from the rear side. | |
9. REMOVE TUBE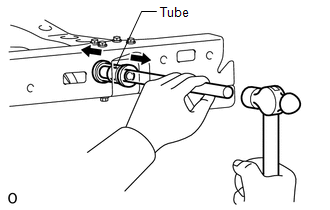 (a) Using a brass bar and hammer, remove the tube from the frame.
10. REMOVE REAR SPRING SHACKLE BUSH
(a) Remove the 2 bushes from the frame.