Toyota Tundra Service Manual: Inspection
INSPECTION
PROCEDURE
1. INSPECT FRONT SUSPENSION UPPER ARM ASSEMBLY LH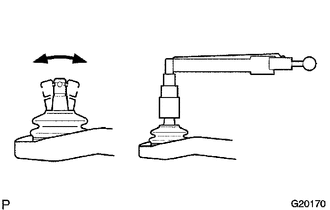 (a) As shown in the illustration, flip the ball joint stud back and forth 5 times, before installing the nut.
(b) Using a torque wrench, turn the nut continuously at a rate of 3 to 5 seconds per 1 turn and take the torque reading on the fifth turn.
Standard turning torque:
0.98 to 4.41 N*m (1.0 to 45 kgf*cm, 9 to 39 in.*lbf)
See More:
Toyota Tundra Service Manual > Front Crankshaft Oil Seal: Removal
REMOVAL PROCEDURE 1. REMOVE V-BANK COVER SUB-ASSEMBLY 2. REMOVE NO. 1 ENGINE UNDER COVER 3. DRAIN ENGINE COOLANT 4. REMOVE INLET RADIATOR HOSE 5. REMOVE FAN AND GENERATOR V BELT 6. REMOVE FAN SHROUD 7. DISCONNECT FRONT STABILIZER BAR (a) Remove the 4 bolts, 2 stabilizer brackets and 2 stabilizer bus ...
Toyota Tundra Owners Manual
Toyota Tundra Service Manual
© 2023 Copyright www.ttundra.com
0.0172