REMOVAL
PROCEDURE
1. REMOVE FRONT DOOR SCUFF PLATE LH
for Double Cab:
(See page


)
for CrewMax:
(See page


)
2. REMOVE COWL SIDE TRIM BOARD LH


3. REMOVE INSTRUMENT SIDE PANEL LH

4. REMOVE LOWER INSTRUMENT PANEL FINISH PANEL SUB-ASSEMBLY LH

5. REMOVE AUTO HIGH BEAM SWITCH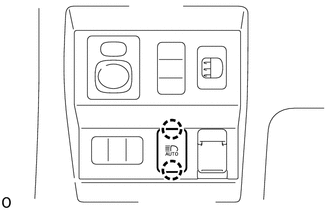 (a) Detach the 2 claws and remove the auto high beam switch from the lower instrument panel finish panel sub-assembly LH.