ON-VEHICLE INSPECTION
PROCEDURE
1. INSPECT RADIATOR CAP SUB-ASSEMBLY
CAUTION:
To avoid the danger of being burned, do not remove the radiator cap while the engine and radiator are still hot, as fluid and steam can be blown out under pressure.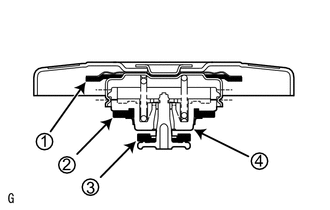 (a) Measure the valve opening pressure.
(1) If there are water stains or foreign matter on rubber packing 1, 2 or 3, clean it by using water and finger scouring.
(2) Check that rubber packing 1, 2 and 3 are not deformed, cracked or swollen.
(3) Check that rubber packing 3 and 4 are not stuck together.
(4) Apply engine coolant to rubber packing 2 and 3.
| | |
| --- | --- |
| (5) Prepare a radiator cap tester, and tilt it more than 30°. | |
(6) Pump the cap tester several times, and check the maximum pressure*.
Pumping speed:
1 pump per second
HINT:
*: Even if the cap cannot maintain the maximum pressure, it is not a defect.
Standard Judgment Criterion:
Item

Specified Condition

Standard value

(for brand-new cap)

93 to 123 kPa (1.0 to 1.3 kgf/cm2, 13.5 to 17.8 psi)

Minimum standard value

(after using cap)

78.5 kPa (0.8 kgf/cm2, 11.4 psi)
If the maximum pressure is less than the minimum standard value, replace the radiator cap sub-assembly.
2. INSPECT FINS FOR BLOCKAGE
(a) Check that the radiator and condenser are not blocked with leaves, dirt, or insects. Clean the hose connections.
If the fins are blocked, wash them with water or a steam cleaner.
NOTICE:
(b) Dry the fins with compressed air.